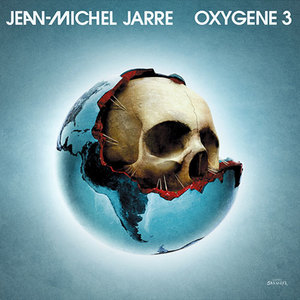 Release datum: 2 december 2016
| | | |
| --- | --- | --- |
| 1 | Oxygene (Part 14) | 5:28 |
| 2 | Oxygene (Part 15) | 6:40 |
| 3 | Oxygene (Part 16) | 6:56 |
| 4 | Oxygene (Part 17) | 4:20 |
| 5 | Oxygene (Part 18) | 2:48 |
| 6 | Oxygene (Part 19) | 5:45 |
| 7 | Oxygene (Part 20) | 7:59 |
Op 30 september 2016 werd in het kielzog van de Electronica albums (nog geen 5 maanden na Electronica 2) de opvolger van Oxygene 7-13 aangekondigd. Het album, Oxygene 3 genaamd, kwam uit op 2 december 2016, precies 40 jaar na de release van de eerste Oxygene.
Tijdens de Electronica tour, die in juni van dat jaar begon, zijn in de latere concerten in oktober en november Oxygene 17 en Oxygene 19 toegevoegd aan de setlist. Later werd ook nog een stuk van Oxygene 20 gebruikt bij het begin van het concert. Ter promotie werd Oxygene 17 uitgebracht als single, vergezeld door een videoclip. Bij het concert in Amsterdam (22 november 2016), werd Oxygene 17 gebruikt om een 3D video te maken voor Youtube.
Oxgene 19 is al een ouder nummer. Tijdens het 2010 tour concert in Parijs speelde een DJ een lange mix van nummers. Hiertussen zaten ook nummers die later uitgebracht zouden worden als These Creatures van Electronica 2 en dus ook Oxygene 19.
Jean-Michel Jarre's track-by-track commentaar
Oxygene 14: I wanted to start with a hypnotic repetitive beat, with only one or two elements growing constantly until merging into the next part.
Oxygene 15 is the most minimalist part based on a constant variation of one sound, the sound of the bass sequence, which is constantly on the edge of either being contained or exploding…
Oxygene 16 is more epic, based on a continuous bass line on which some melodic strings are developing and above all, lots of sound effects are constantly breaking the track until the darker ending maelstrom.
Oxygene 17 is the first bright moment of the album. I wanted to create a groove with the melodic part on its own and to also create the real feel of a spacey trip – which is what Oxygene is all about – and with minimalist drums. What made and makes Oxygene different, is probably that an important part of the sound is made of white noise creating a hazy atmosphere. It is ironic to think back in time when everybody was obsessed by improving the signal to noise ratio, that I used so much noise as part of my music…
Oxygene 18 is composed of 3 elements, evoking the weightlessness and stillness of space…
Oxygene 19 is the track that triggered the entire project – the sound of the melody is close to Oxygene 4. 'Extreme Wave' was the working title, as I had in mind a space-surfer, surfing on one gigantic organic wave…
Oxygene 20: I had the idea in mind to finish this entire 40 minute trip in an unknown vital space, with a track carrying no proper melody, but some harmonic layers, lost in the wind, evolving slowly in a kind of elevation and burning in the dust…
Releases
Reguliere release
De standaard CD en LP edities van Oxygene 3 bestaan uit 7 nummers, de digitale release heeft nog een extra nummer: de continuous mix, wat het hele album is, maar dan als een lange track.
De LP is uitgebracht op doorschijnend vinyl en is verpakt in een gatefold hoes. In tegenstelling tot de CD lopen de tracks Oxygene 16 en Oxygene 17 niet in elkaar over, vanwege de logische reden dat Oxygene 16 het eind van kant A is en 17 het begin van kant B. Er is gekozen voor een simpele fade-out en fade-in tussen de nummers.
Luxe edities
De release van Oxygene 3 was ook het uitgelezen moment om alle drie de albums samen in een set uit te brengen. Daarnaast is Oxygene 7-13 opnieuw gemastered en hernoemd naar Oxygene 2. Het artwork van het album is ook enigszins aangepast, zodat het past in de kleurensets van Oxygene en Oxygene 3. Oxygene was al opnieuw gemastered uitgebracht in 2014, deze mastering is voor de verzamelbox gebruikt. De luxe box editie is voor de vinyl liefhebbers eindelijk weer het moment om Oxygene 7-13 op vinyl te verkrijgen, voor de 1997 uitgave moet men tegenwoordig torenhoge bedragen neerleggen. Dan is een luxe boxset beter betaalbaar.
De luxe box bevat ook een mooi boek met foto's van alle synthesizers en apparaten die gebruikt zijn bij de opnames van alledrie de albums. Via de officiele site van Jarre kon ook nog een editie besteld worden met een gesigneerde litho.
Alle drie de Oxygene albums zijn ook in een 3 CD set verkrijgbaar. Oxygene en Oxygene 7-13 zijn de meest recente remasters. Het CD boekje is wel anders dan die van de standaard editie; de foto's van de gebruikte instrumenten zijn komen te vervallen.